CYCLE TO WORK
CYCLE TO WORK
With commuting by bike being promoted when we get back to the "new normal", will you be planning to cycle to work.  Now, this is a bit of a long read, but remember, if you are looking to buy a bike to commute on, even at the cheaper end of the range, it is not a small investment.
WHAT DO I KNOW
I braved the roads of London and home counties on and off for 25 years with an average daily round trip of 30 miles and on a long trip, 50 miles and for most parts enjoyed it.  I even did a small stint (six weeks) as a cycle courier. I did so through glorious summer evenings and soggy winter nights, so yes, I'm a bit of a commuting expert.
Your cycle commute should be enjoyable.  There are the obvious benefits of improving fitness and saving money (once you have the expense of the bike out of the way). One of the other aspects is, you get to explore places that you probably never really take any notice of.  Also, if you have had a tense day at work, you can pedal it out on the way home.
Up until commuting by bike, I had never seen Downing Street or visited Trafalgar Square.  I would get to cycle round Regents and Hyde Park.  Also, it is not a given that you have to travel on the road. One of my commutes was 13 mile of which only 2 were on road, the remaining 10 miles were through woods and bridal ways. Took a bit of exploring and wrong turns for the first week but still a great experience.
WHAT BIKE SHOULD I GET
If you haven't got a bike and are about to invest in one, my best advice is to spend a bit more than you probably think you need to.  As a general guide anything under £300 will be heavy, the components not very good quality and won't really be that much fun to ride.  £400 upwards will be a decent starter price, and anything around £1000 upwards will be lightweight, durable and last a good while.
Have a check of Bikeradar for recommendations; they have loads of reviews across a range of bike types and in handy budget ranges.
https://www.bikeradar.com/reviews/bikes/
When working out what you want to spend, consider your safety as well.  Budget for a crash hat, decent lights, a tool kit and a waterproof jacket.  Most of the lights now are super bright and can be charged from a USB port.
If you are mainly riding on roads, then the new trend of gravel bikes are a great choice.  Most of them come with mounts for mudguards and racks, so ideal for packing stuff for work.  They are designed with bigger tyres so they offer more comfort and are ideal to ride on bridle ways or explore local woods.
In fact my gravel bike (I sold the green beauty to buy the Trek) is probably one of the best bike purchases I have made as it crosses over well between trail and road riding.  The mountain bike I had was great but I just didn't enjoy riding it on the road and in all honesty, the trails I rode didn't warrant a bike with suspension.   My Trek on the other hand rides almost as nicely as my full on racer on the road and whips along the trails in the woods really well.  And it is a great all weather bike, a set of mudguards and a decent waterproof jacket, and I happily peddle in any conditions!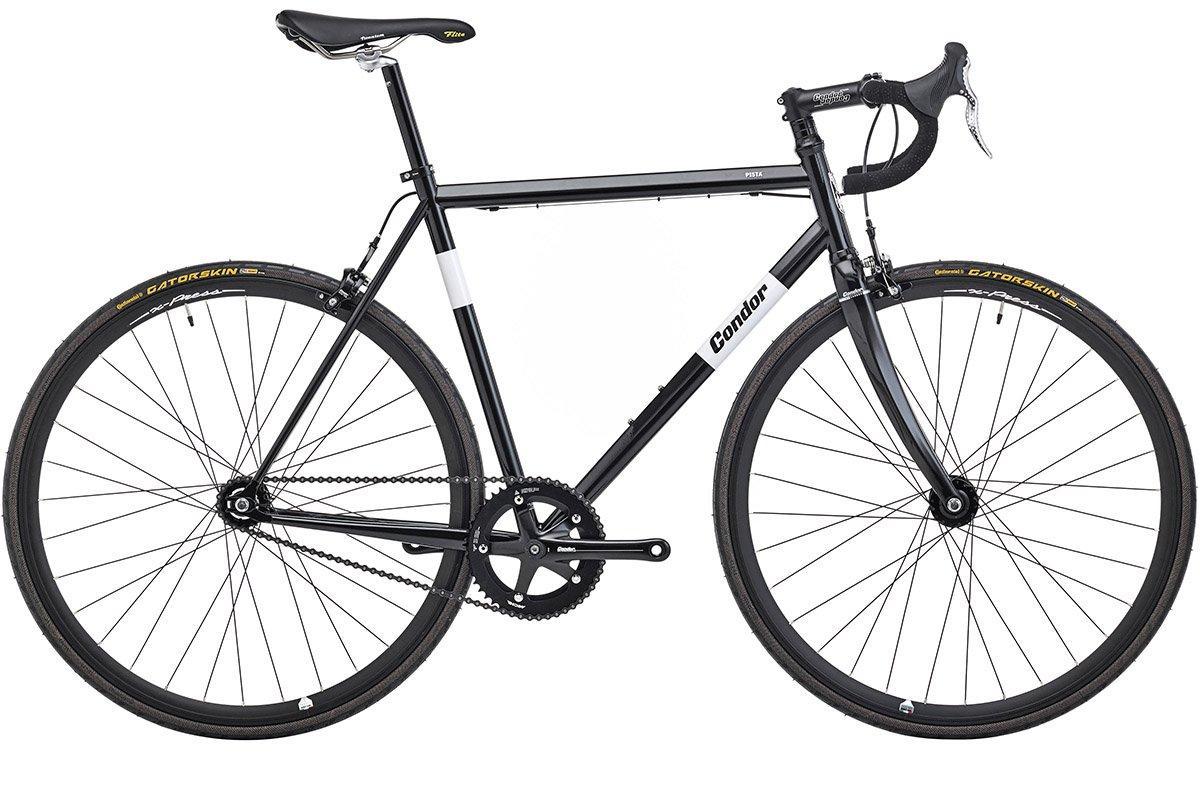 My other all time favourite commuting bike was a Condor Pista single speed fixed wheel.  With a fixed wheel bike, you cannot coast, you pedal continuously until you stop.  It takes a few rides to get used to it, but when you do, they are lovely to ride.
Riding up hills is a blast as the momentum of the turning wheel propels you along.  I only ever struggled on steeper climbs of say 15-18%. In fact I then rode this regularly on weekend rides and would prefer it over the racer.  The other thing to consider, with only one gear there is very little to go wrong so very easy to maintain and keeps the cost down.
When buying, always look to your local bike shop. Online purchases can be good value, BUT, you will still need to do a little bit of set up yourself and unless you know what you are buying and you do not get the option to see that the bike fits.
My personal experience is, that the shop staff do care about what they are selling and will offer advice on your purchase. Their experience can help you make a better choice of the bike you need.  And don't feel shy about asking for a bit of a discount, if they won't discount the bike, at least ask for them to include some of the essentials, such as light's, bottle cages or maybe a crash hat.  And maybe surprisingly, if you are spending a largish amount, say above £1,000, the bike may not come with pedals.
PAYING FOR IT
One of the options being actively promoted is the cycle to work scheme.  I have bought a few bikes through this method and it can be attractive.  You will get the greatest level of saving if any of your salary falls into the 40% tax bracket, there are a few things to look out for though.  In entering into the scheme, you are in effect leasing the bike.  At the end of the lease you have 2 options and with both you have to pay a fee, (see link for explanation)
https://help.cyclescheme.co.uk/article/42-what-is-an-ownership-fee
Also bike shops that participate in the scheme are charged a fee of 10% of the purchase price of the bike.  In many instances the shops now are looking to pass this cost on to you. Another option is to see what finance schemes the bike shop offers, many offer split payments, or interest free loan options.
BREAK DOWNS
Best will in the world, you will experience some form of mechanical failure, the most obvious is a puncture.  As a minimum, you're going to need a pump, spare inner tube, a set of tyre leavers to get the tyre on and off and as importantly, the knowledge of how to actually change your tube.
You can find tutorials on youtube.  TIP, before you take your tyre off, locate the puncture.  You may need to pump the tyre up a few times and listen out for the hiss, once you have the tyre off dig out whatever has caused it.
The frustration of changing your inner tube, pumping up the tyre, then hearing that faint hiss of air escaping as the bit of glass or thorn has not been removed cannot be under estimated.  And keep your bike maintained.  Oil on the chain and a good clean up can make a world of difference as does a visit to the cycle chop for a service.
GETTING TO WORK
This may be a bit obvious but it's a good idea to have a scope out of your work place.  Does it have secure cycle storage, if not can you bring your bike into the office.  Are there lockers and shower facilities?
AND, if they don't have these facilities, it is worth talking to someone who manages the facilities to see if they are planning to install them, or if they can look into doing so.  From a company prospective, there are definite benefits for staff engagement and obligations in relation to promoting cycling and reducing car usage.
NIGHT BEFORE
So I wasn't packing the world into a rucksack, I would leave shoes, trousers, deodorant, wash stuff and a quick dry towel at work.  In the evening at home I'd sort out my back pack with shirt/top, get my packed lunch ready so in the morning I didn't need to go searching for random unpaired socks.
SECURITY
Lets be quite frank, a shiny new cycle is a beacon for thieves.  I have sat outside Café Nero having a coffee in full on lycra, to watch a guy start tampering with my bike, I was only 5 meters from him.  When I asked him if he was okay, he said, "Nice bike, is it yours?"
Get a decent cycle lock that you can get to go through a wheel, frame and whatever you are securing it to.  Even if you are popping in a shop for a minute, lock it up. And when you do leave it, remove anything easily removable, (lights, tool kit, pump).
If you don't have anything to secure your bike to or secure cycle storage, there are a couple of other options.  Moulton and Brompton, both make folding bikes, which fold down pretty small and are easy to take into the workplace.  They are decent quality, and if you want to split your commute say train and cycle, they are ideal.
ROAD SENSE
Venturing onto the roads can be quite daunting, especially in the rush hour.  Although there are lots of stories about conflict between drivers and cyclists, I have only ever experienced it on a couple of occasions.
However, there are a couple of things that I have found work.  You have every right to be on the road, you need to display confidence, drivers are then more likely to show consideration.
Hold your place on the road, this does not mean hog the middle of it but don't weave in and out of where cars are not parked for instance.  When you turn right, check behind you, check you have enough time to get to the middle of the road and indicate that you are moving across the road but sticking your arm out.
Look to make eye contact with other road users. When I see a driver about to pull out, I look at them, you can gauge their intention and if they are looking at you, then the risk of them pulling out is minimal.  If they are fiddling on the phone or look distracted, then be more cautious.
Remember  to obey the rules of the road.  Travel the right way down one way streets, keep off the pavements and do not jump traffic lights.  For one thing, all of them increase your risk of being being hit by a car or or hitting a pedestrian.  Also, they are illegal on a bike and you can get fined for it and I know this as in younger days I have been fined for riding through a red light.  And finally, cycle paths.  They are a great idea, but quite few are poorly thought out. If a cycle route exists, you are not obliged to use it over the road.
As you can tell I am a keen cycle advocate, and I hope this may give you a bit of incentive and reassurance to take the plunge.  Also, if you are already a keen cyclist or looking to be so, remember, the North York Moors are a great place to discover on a bike.
Author; Simon Williams Corra Lynn B&B